Pancake Production Line
Pancake production line, auto cake production line[10-06-30 11:11:42]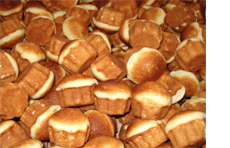 The pancake production line serves the purpose of filling the sandwich part of yolk pies as well as producing average cakes,European-style cakes and other styles of cakes of various sizes.The line can be set at the range of 10g-100g at customer's request and is known for rationalized structure, easy and smooth operation, and high efficiency. Using advanced technologies and controlled by computer programs, the system is widely welcome among food producers.
The Process flow of the pancake production line is:
Mixing - Pan Forming - Cake Baking - Cake Cooling - Cake Filling - Cake Sterilization - Packaging


Main parameters


Daily output: 8-10 tons per day
Gas consumption: 13-18 kg per hour
Total power: 20 kw
| | | |
| --- | --- | --- |
| 1. Cake forming machine | 4. Auto cake filling machine | 7. Packaging machine |
| 2. Natural gas tunnel oven | 5. Conveyor belt for sterilization | 8. Pans withdraw and transport |
| 3. Conveyor belt for cooling | 6. Conveyor belt for cake arranging | 9. Pans washing and oil spraying machine |
After the shipment of pancake production line, we will send engineers to local workshop, for the installation of pancake production line. The engineers will stay there unitil the machine runs in normal state, during the commisioning, local staff will also be trained.