PVC pipe production line
PVC pipe production line, PVC pipe machinery[09-08-19 11:55:22]

Introduction of PVC Pipe Line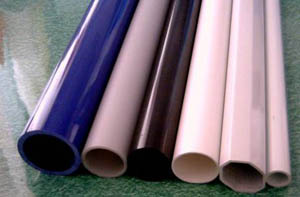 CLIMA PVC pipe line is mainly used to produce PVC high strength communicating perforated pipe. It has reasonable body, easy to operate, high degree of automatization, stable and reliable when it successively produces, can rapidly produce. The main material of PVC high strength communicating perforated pipe is high density PVC. Three plastic extruders together extrude molded pipes, which are mainly used as cover of cable and optical cable in freeway network communication project.
Features of communicating pipeline:
Stress resistance and aging resistance. Using high-quality improved PVC project plastic extrudes once, with high strength of shaping molding; the inner grid shape forms physics
Steel structure, its rigidity is 10-100 times higher than common plastic pipe. It is not necessary to envelop, can replace steel tube put through the road safely. Smolder (namely the ability of quenching is good), anti corrosion, aging resistance, with the longevity of over 50 years.
Company to a first-class product quality, professional technical team; continuing to pursue the spirit of innovation, to provide users with satisfactory services and high-quality products, won the majority of the user's trust and support. But the day does not end to stay. It to "first-class service, continuous innovation" philosophy, commitment to research and development of new products! On the optimization and upgrading of products has not changed, please believe we will do better.

Our PVC Pipe Line are of high quality .If you are interested in it, please don't hesitate to contact me. We will provide you good quality and low price.
Specification of PVC Pipe Line

PVC Pipe Line
Production method:
Conic double screw extruding and dual-traction, dual-cutting.
Production capacity:
150Kg/Hr
Cooling-down method:
Air-cooled
Working hours per year:
7200hours
Feeding cylinder heating method:
Electrical
Feeding Method:
Spring Feeding
Power supply:
Electrical power 600kw
Technical Parameter of PVC Pipe Line
The CLIMA PVC pipe production line is mainly used to produce different PVC pipe, wall thickness plastic pvc pipe in agricultural drainage, building drain, cable laying tube and so on. This unit is composed of cone (parallel) twin-screw extruder, the vacuum stereotypes stand, the tractor, the cutter, material-turning rack and so on.
The screw extruding machine and the tractor use the import exchange frequency conversion speeder, the vacuum pump, besides that both vacuum pump and tractor courteous are of high quality. The tractor has two, three, four and six-claw drawing way etc. The unit adopts saw-cutting or planet-cutting; in addition, it is equipped with comptroller general instrument and thickening device, which ensures that the unit has reliable performance and high production efficiency. After being equipped with the special installment, the company can produce the inner Spiral pipe, the hollow tube and sandwich foaming pipe unit with the user request.
The replacement extruding machine can produce pp, pe,abs, and ppr, pex, the silicon core tube and other material tubing. The planet cutter using entire automatic computer numerical control has the merit of easy operation and reliable performance, which has achieved the international leading level.
All the data are base on our 20 PVC Pipe Line and are only for customers' reference, we can adjust the specification according to your requirements.
Just a few of them have been listed , please contact us if you want any other kinds of machines.