Slitting Machine
Slitting Machine, Tissue slitting machine, tissue slitting machine[09-01-19 22:32:11]


This machine is the equipment for slitting toilet paper and kitchen paper roll. With the feature of high speed and great efficiency, the machine is your best choice for producing paper and kitchen paper roll.

Main features:
1. The paper roll will be clamped by the paper clamp when it is pushed to the slitting device by the driving unit of the machine, and then is sent to the slitting blade for cutting. The paper slitted from this machine is smooth and neat, and the machine has the feature of high accuracy.
2. Equipped with advanced photoelectric checking system and large diameter whirl slitting knife, the machine can set the length of paper head automatically, and slitting paper accurately. The machine can slit 2 paper rollers in one time, and can slit 100 times in one minute.
3. The slitting device is by optimized designed, with the feature of automatic lubricating and knife sharpening system. The grinding wheel can grind the blade accurately according to the slitting times.
4. The machine adopts the most advanced servo driving system, whirl and variable frequency speed regulating, PLC programming. Computer controlling screen sets all the times and frequency of blade sharpening and lubricating, and also the slitting speed and length, so the smoothness and the continuity of pushing, slitting and blade sharpening will be better, and the advantage of the machine can be show fully as a result.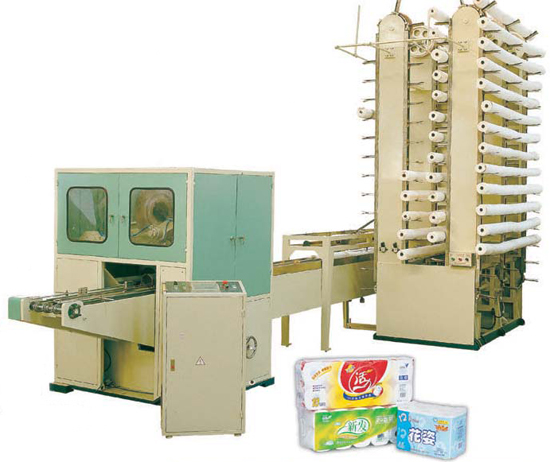 Paper log length

1780/2800mm

Log Diameter

110±5mm by computer

Cutting length

Variable, servo control, tolerance ±0.7mm

Mechanical speed

0-100 cut/min, 2 rolls/per cut

Operating speed

80 cut/min, 2 rolls/per cut

Function type

rotating the round blade and continuous controlled paper log move forward

Palm driven control

Servo motor dirve

Blade-grinding

Pneumatic grind blade, grinding time controlled by procedure on the panel

Blade greasing

Greased by oil-spray, greasing time controlled by procedure on the panel

Cutting blade outside diameter

610mm

Sleeve

Could be specified

Product size

Log outside dia

90mm-160mm

Cutting length

50mm-30mm

Edge length

25mm-10mm

Installed power

10kw

Machine dimension

700mm*1500mm*2500mm

Machine weight

3000kg

Packing measure


After saling Whirl slitting machine, if necessary, We will send one or two engineers to set up and commissioning of the Whirl slitting machine until it running in normal state. Druing the time your workers who will operate the Whirl slitting machine will be trained.