Aluminum Tube Production Line
Aluminum Tube Prodution Line, Aluminum can Prodution Line, Toothpaste tube Prodution Line[09-08-10 15:34:14]

Introduction of Aluminum Tube Production Line
CLIMA provides set facilities of toothpaste; research, develop and produce aluminum tube lines and aluminum cans lines and provides relevant service.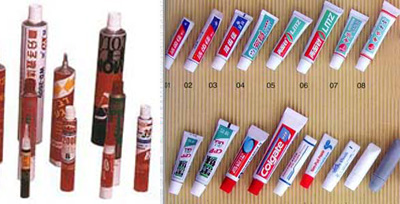 We have professional technical experts, garden-style factory, high-precision processing machines. With advanced professional techniques, we become NO.1 in counterparts. We always rely on advanced techniques, and provide satisfactory products. On the basis of sufficiently bringing in and absorb European and American advanced technologies, we successfully develop automatic double and three colors toothpaste production lines with national technical patents;Aluminum tube production lines with speed of 120 tubes per minute and aluminum aerosol can production lines. We also have a service team with technical skills, always ready to provide all-wave technique support.

CLIMA is extensively trusted by customers of home and abroad for our excellent products and top-ranking service. Nowadays, our products have been sold to countries and regions like Southeast Asia, Mid East, South America, Africa, India, and Pakistan and so on. Our products have strict quality control in the whole producing process and good post sales guarantee. Meeting customer's needs is our everlasting goal. We sincerely thank you for your suggestions and advice so that we can supply better service.

We sincerely thank you for you trust and support. Your visit to our company at anytime will be warmly welcomed.
Our company has already formed such as a organic whole service system as designing , making , installing , debugging , marketting , after-sale service ,etc. now. The reliable company of product quality seeks survival with technology, seek development by quality.
Our toothpaste equipments are of high quality .If you are interested in it, please don't hesitate to contact me. We will provide you good quality and low price.
Technical Process of Aluminum Tube Production Line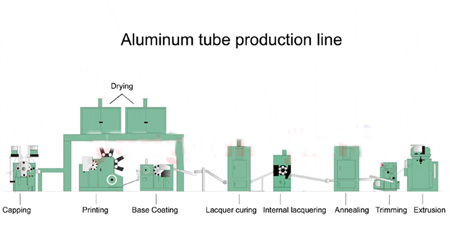 Main Equipments of Aluminum Tube Production Line
1.Printing machine 6 – Colors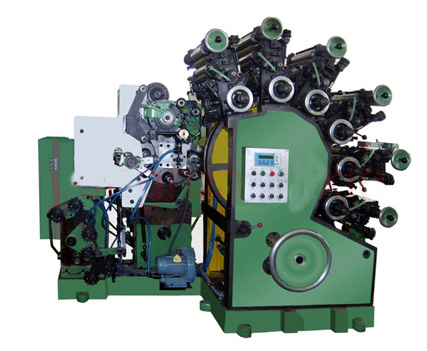 6-Color Printing Machine

This machine is used for printing designs on tube's cylindrical surface. It can use at most five colors to print, so the application is much wider.
Germs tubes dried by base coating machine's oven are transmitted by chains to printing machine's loading point. They will be blown to slot and then be pushed onto printing mandrels. Put every resin mould on each copper support plate. Each ink distributing structure controls the paint's amount properly. Rubber rollers put paint on printing mould. Through regulating device, copper pallet's position could be adjusted exactly. Every regulated printing mould will transfer its designs to rubber cloth of printing plate, so the offset is finished; then the rubber cloth will transfer the designs onto germ tubes' body. So the whole printing process is completed. The machine hand will take the printed tubes off from mandrels and insert onto oven's chain bar and come into oven with chains. Every set of printing parts' ink amount can be modulated freely and independently.

The whole machine is controlled by PLC, text display show the production speed and output. Automatic check device make sure that no tube no printing, and the machine stops automatically because of bad intubation. Printing mandrel turn itself and it can control frequency. Printing components adopt printing mould and R-support plate, easy to change specifications.

The whole machine is easy to operate, high printing precision, use Fugerson division structure. Eight-mandrel plate, cam etc. vital parts are completed by numerical control equipment, precise and reliable.
Main features:
1. The whole machine is controlled by PLC, frequency control.
2. Production information displays automatically.
3. Accurate color register, high printing precision.
4. No tube no printing, if inserting tube badly, the machine will stop automatically.
5. New ink distribution structure, distributing ink is smooth and fine.
Main technical parameters:
1. Diameter: φ11mm-φ38mm
2. Production ability: ≤65 pieces/min
3. Motor power: 5.5KW
4. Weight: 3400kg
5. Dimensions: 2100×1530×1600(mm)
2.Impact Extrusion Press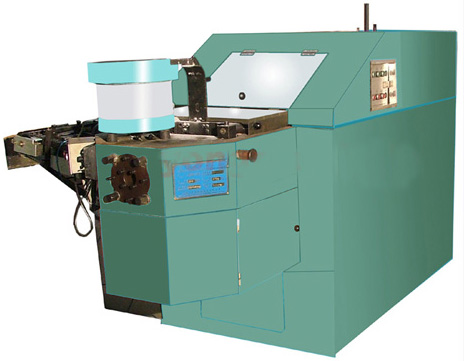 This extruder is a new generation high speed horizontal extrusion press. It has good rigidity, high precision, fast speed, stable operation, good safety function. This machine adopts closed-type lubrication system which can avoid the pollution of lubricant's drops on floor. The equipment use electricity chain operation, so operation is more convenient and reliable. Stroke can stop at any position, mould adjustment is more convenient. Production speed can be freely within a certain range. So it is the ideal equipment for aluminum tubes and cans production.
Main Features:
1. High production speed.
2. Producing speed can be freely adjusted.
3. Steady running, good safety.
4. Closed type lubrication, clean and sanitary.
5. Easy operation, convenient adjustment.
Main Technical Parameters:
1. Applied diameter: φ13.5-φ35
2. Maximum applied length:200mm
3. Production speed: 70-120 pcs/min
4. Main motor rate:15kw
5. Dimensions: 3200*1560*1450
6. Net weight:6800kg
3.Tube thread machine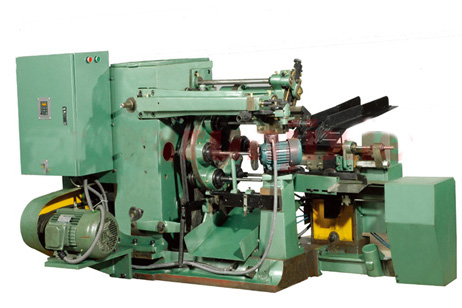 Use and performance
Tube thread machine produces threads at the head of aluminum blank from Impact Extrusion Press and cuts off the end. It is the professional tube-making equipment in the field of daily chemical industry and pharmacy industry.
It is the independent and automatic unit in the automatic production line. Supply blank from feeding shelf. It works by six mandrels in the following order:tube feeding, thread-cutting, head/end-cutoff, embossing and flattening, tube-relief ad tube output. Then processed tube eters into the successive step through discharge shelf.
For various tubes, user just selects some optional parts. Then machine can work different types.
4.Tube annealing oven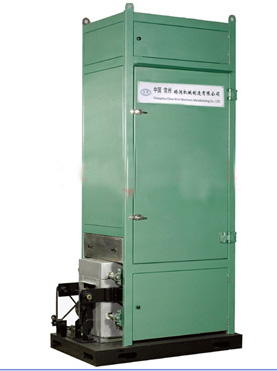 Annealing Machine
In order to make tubes reach usage requirements' ductility, it is needed to anneal germ tubes.
After slugs are extruded into germ tubes, metallic molecule structure changes and has stress. In order to eliminate this kind of stress and reach required ductility, it has to be annealed.
Annealing oven adopts electricity heating way, tidy and safe. Conveyor chains put every germ tube into "C" type boat. Germ tubes cycle in oven's chamber with "C" type boat, annealing is finished at this process. Germ tubes are poured at unloading point, and sent to next step by conveyor chains.
Tube-in conveyor chains use stepless speed regulation, which can keep the same pace with previous equipment. Oven chamber uses suspension type structure which is convenient to maintain and makes conveyor boats move smoothly, reducing the phenomenon of tube's falling and pressing, so it can improve products' percent of pass. Oven's internal bladder adopts excellent stainless steel. This equipment also uses excellent heat preservation material and better heat barrier material, greatly cutting down energy and reducing cost.
This machine uses automatic temperature controlling techniques.
Main features:
1. Four layers of heat preservation,efficiency and save energy.
2. Suspended type furnace chamber, rate of finished products is high.
3. Products' annealing is balanced, the same hardness.
4. Automatic temperature control, temperature will be displayed automatically.
Main technical parameters:
1. Production speed: 60 pieces per min
2. Tube specification: φ11mm-φ38mm
3. Electro thermal power: 4KW×8
4. Motor power: 0.75KW
5. Working temperature: 200-500℃
6. Conveying hopper shape: C-shape
7. Working time: 150 sec 8. Dimensions (including conveyor chains): 4627×1300×3040 mm
9. Net weight: 1800 kg
10. Configuration according to the buyers' specific requirement
All the data are base on our 20 Aluminum Tube Production Line and are only for customers' reference, we can adjust the specification according to your requirements.
Just a few of them have been listed , please contact us if you want any other kinds of machines.