Polyester Staple Fibre Production Line
Polyester Staple Fibre Production Line, PSF production line, Polyester staple fibre making machine[08-12-08 20:53:48]

Our polyester staple fibre production line can make use of recycled PET, LDPE and other plastic wastes, to produces a serial products of pre/post-spinning for normal fiber, three-dimensional, flexible polyester staple, which can be used to produce various kinds of staples such as 1.5D and 25D two-dimensional hollow, three-dimensional hollow, cotton, wool and colored yarn. It's an ideal choice for entrepreneur around the world.

15TPD POLYESTER STAPLE FIBRE PRODUCTION LINE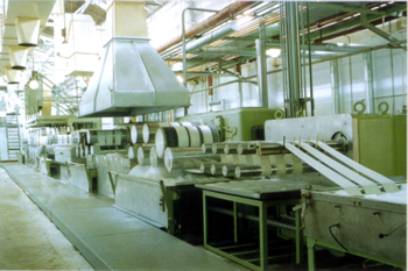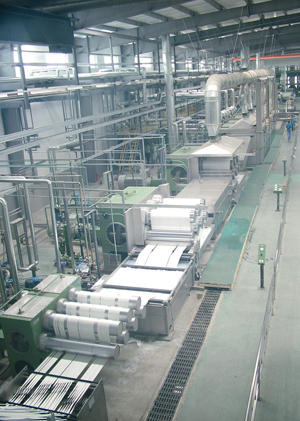 TECHNICAL PROPOSAL


1.STRUCTURE OF THE SUPPLIED EQUIPMENT AND THE EXPLAINATION OF THE TECHNOLOGY

1.1 EQUIPMENT SUMMARIZATION

THE FORE SPINNING FOR THIS PROJECT START FROM VACUUM DRYER AND FINISH AT THE FIBRE CAN RECIPROCATING DEVICE,AND THE SPINNING MACHINE MAKE USE OF HIGH PRESSURE,MELTING SPINNING TECHNOLOGY.
This project starts from the creel stand and finish at the baler.

1.2 EQUIPMENT PROCESS

VACUUM DRYER →HOPPER →SCREW EXTRUDER →FILTER→METER PUMP GEARING→SPIN BEAM→SPIN ASSEMBLY→CIRCULAR BLOWING DEVICE→ CORRIDOR→WINDER→TRAILER GEAR→INPUT FEED SYSTEM→FIBER CAN TURN TABLE SYSTEM

CREEL STAND→THREAD→GUIDE MACHINE→FIRST DRAW OFF MACHINE→DRAW BATH MACHINE→SECOND DRAW OFF MACHINE→LAMINATED MACHINE→STEAM HEATED BEAM→CRIMPER→CONVEYER→LAY TOW MACHINE→RELAXING HEAT SETTER→TENSION DEVICE→CUTTER→FIBRE TRANSPORT DEVICE→BALER

1. 3 EQUIPMENT PROCESS DRAWING(ENCLOSED)

Complete set of Chinese origin polyester fibre production line with 380 Voltage/3 Phase/ 50 Hz.

1. PRODUCTION CAPACITY:

a) SPINNING: MAX.15TONS/DAY
b) FINISHING: MAX. 20MTS/DAY

2. SCOPE OF PRODUCTION: 1.5D—15D SOLID, 6D-15D HOLLOW

3. TYPES OF RAW MATERIAL: POLYESTER CHIP VIRGIN GRADE, CHIP OFF GRADE, AND WASHED PET BOTTLE FLAKES

After saling polyester staple fibre production, if necessary, We will send one or two engineers to set up and commissioning of the polyester staple fibre production until it running in normal state. Druing the time your workers who will operate the polyester staple fibre production will be trained.